15 Jun 2018

Kathy Griffin's Comedy Lacks Hart
A white woman implying that a black man is being a traitor to his race doesn't make for good optics as that woman tries to reboot her career in entertainment.
But we're talking about Kathy Griffin.
Members of the National Center's Project 21 black leadership network are lauding the target of Griffin's ire – superstar comedian and actor Kevin Hart – for his performance style, lack of politics and racial authenticity.
Griffin, an alleged comedian and self-proclaimed D-list celebrity, is planning to tour again after a hiatus she brought upon herself after posing for now-infamous photos in which she held up a bloody, severed head of President Donald Trump. She lost her show bookings and a New Year's Eve gig on CNN for that unfunny act.
In an interview with USA Today, Griffin was unapologetic about her anti-Trump ranting. Warning people to go elsewhere if they don't want to experience the Trump-hating, she said:
And look, if you want to not hear about Trump at all, go see Kevin Hart. He doesn't even mention Trump. I personally think that's a [expletive] move because he's a black man. But I guess he's selling more tickets than I ever will.
At least the last comment is true.
Kevin Hart is a very successful funnyman with stand-up videos, starring roles in movies such as Jumanji and Central Intelligence and hosting the new television show TKO. He's A-list. She's D-list.
At a time when too many Hollywood stars think their celebrity comes with a duty to share their liberal and anti-Trump political beliefs, Hart is not getting involved.  And it's likely helping boost his appeal with audiences looking for a break from polarizing politics.
Someone reported to be close to Hart told Fox News:
Everyone has something to say about Donald Trump, and that's the reason Kevin isn't speaking on him. Kevin honestly feels the Trump bits are overused and knows that people are tired of the political banter from comedians.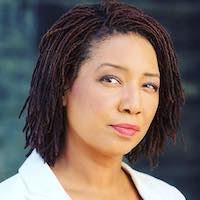 Project 21 Co-Chairman Stacy Washington, a syndicated radio talk show host who recently appeared on CNN to discuss the over-the-top politics of Samantha Bee and Roseanne Barr, said about this Griffin/Hart controversy:
Kathy Griffin continues to wow us with her ability to sink to new lows.

As she has utterly destroyed her own career with her deplorable representation of the President of the United States, Griffin now attempts to drag Kevin Hart into her misery. Hart is magnificently successful with his recent forays into cartoon movies. His family plays a huge role in his online persona. Hart is a shooting star whose stratospheric trajectory is based upon entertaining everyone instead of engaging in partisan commentary disguised as comedy.

If anything, Griffin should take a page out of Hart's book: write jokes to make people laugh regardless of their political affiliation.

There is plenty of room for that type of entertainer. Americans are desperately searching for good, enjoyable content.
Project 21 member Derryck Green, Ph.D. added:
Kathy Griffin is right – but not in the way she thinks.

We do live in an anxiety-ridden time precisely because so many people are sharing her mindset and politicizing everything.

When people go to comedy shows, they want to be entertained. Many want a recess from politics. Kevin Hart made a smart business decision by not attacking the President. He probably realizes that both liberals and conservatives buy tickets to his shows. He's obviously not catering to a small audience like Griffin.

More to the point – Griffin's diss is a not-so-subtle attack on Hart's racial authenticity. Just because he's black doesn't mean he has to be a Trump-hating liberal. It doesn't mean he has to be on the attack. It doesn't mean he has to think Trump is a racist or whatever the perceived outrage is at any given moment.

Kevin Hart is an individual. He shouldn't be defined by how he "should" think or what he "should" do because of his race. Demanding otherwise is the rot and result of identity politics.