30 Oct 2018

After the Pittsburgh Massacre, A Pistol in the Pulpit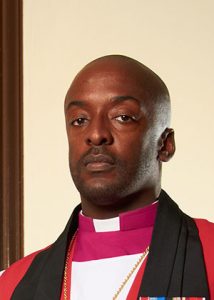 After last year's attack on the First Baptist Church in Sutherland Springs, Texas, Project 21 Co-Chairman Council Nedd II – an Anglican bishop and Pennsylvania State Constable – reconsidered his decision not to carry a gun while officiating church services.
In a new Daily Caller commentary, he recounted how this put him more at ease during this past week's service at St. Alban's Church in Pine Grove Mills, Pennsylvania:
Well into last Sunday's worship service, someone entered my church and was lurking in the rear of the sanctuary. As I tended to matters of faith in the pulpit, I was also assessing that potential security threat.

After the horrific Pittsburgh synagogue massacre that occurred the previous day, I decided to take no chances in protecting my congregation from harm. Under my vestments, I carried a Smith & Wesson M&P 40 pistol on my hip.
Beyond the threat of violent intolerance to religious expression, Council also recently received a threat from someone he arrested during his duties as a constable. Because of this dual threat, he explained that "I now have no problem with a pistol in the pulpit."
In fact, Council – "America's Constable" – explained that doing so makes him "truly a shepherd of my own flock."
He wrote:
As I've preached before, it's a bishop's duty to act as a shepherd for his flock. That's why I have an ornate staff called a crozier. Like a shepherd, it's my duty to steer my congregation away from figurative wolves who would corrupt them spiritually. And now I am also physically protecting them from literal threats to their security because the crozier is no longer enough.

Some politicians and well-funded activists will undoubtedly use the Pittsburgh synagogue shooting to call for stricter gun control. That's not the answer.

Awareness and swift response are much more appropriate.
In the commentary, Council also described how many Jewish institutions in particular already have armed guards and additional means of assessing potential threats. As a constable, Council has served on protective details during the popular Jewish holidays. But Pittsburgh Mayor Bill Peduto is critical of the suggestion that more armed security is needed at synagogues and other religious buildings, saying that more needs to be done to "take the guns… out of the hands" of those threatening the free exercise of religion.
"Isn't that what an armed guard – or an armed bishop – can do?" Council asked.
To read all of Council's Daily Caller commentary, "Why I Choose to Pack a Pistol in My Own Parish," click here.