23 Jul 2019

On Fox News, Bream Uses Project 21 Commentary to Make Point

Twice in one night.
On successive shows.

Project 21 members were featured on the Fox News Channel two times on Monday, July 23.

In a discussion about liberals injecting racial allegations into the current political environment, Shannon Bream – the host of "Fox News @ Night" – read from a recent Project 21 New Visions Commentary by Emery McClendon.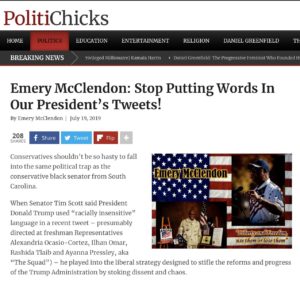 Published on the Politichicks website, Emery's commentary – "Stop Putting Words in Our President's Tweets!" – discussed how liberals "love to use racism to divide us," and that conservatives should not fall for this "dishonest and disgraceful" tactic.
To prime the pump in the debate between Fox News commentators Charles Hurt and Chris Hahn, Bream said:
Gentlemen, OK, let me read you something verbatim, though.

This comes from Emery McClendon. He describes himself as a conservative African-American.

He says:

"Political correctness is only beneficial when it supports their cause. After all, if they were truly concerned about racial animosity, why is Virginia Governor Ralph Northam still around after admitting to being in blackface or a Ku Klux Klan outfit in an old yearbook photo?"
Hurt chuckled as Bream read Emery's quote and Hahn was forced to repudiate Northam.
Earlier in the evening, on "The Ingraham Angle," Project 21 Co-Chairman Horace Cooper discussed an apparent racial hoax in which a black Georgia lawmaker claimed to be told to "go back where you came from" – only to begin changing the quote after the man she accused confronted her.