05 Aug 2019

After Trump Tweets, Baltimore's Elected Leaders Given "Blueprint for a Better Deal for Black America"
Black Conservatives Send Recommendations to Mayor, City Council for Improving Black Opportunity
Washington, D.C. – To help create a better Baltimore, the Project 21 black leadership network sent Mayor Bernard C. "Jack" Young and the entire Baltimore City Council copies of its "Blueprint for a Better Deal for Black America."
Project 21's Blueprint contains 57 policy recommendations over 10 key areas that are designed to remove barriers that keep black communities from reaching their full potential and to ensure that access to the American Dream is attainable for everyone. Many of the ideas proposed in the Blueprint can be implemented at a local level. In their letter to Young, the co-chairs of Project 21 said the Blueprint's policies "are just what Baltimore needs to become a world-class city and shining example of reform done right."
"After President Trump said no one wanted to live in certain areas of Baltimore, Mayor Young couldn't push back that hard. He admitted there are tough challenges and he is looking for resources. Project 21's 'Blueprint for a Better Deal for Black America' is a resource providing innovative means to make the streets safer and the schools better and to get people back to work," said Project 21 Co-Chairman Stacy Washington. "Instead of complaining about the President's tweets, Mayor Young and the Baltimore City Council should see them as a reason to reassess the status quo and embrace policies that improve black opportunity and upward mobility."
Included among Project 21's Blueprint recommendations that were sent to Mayor Young and the Baltimore City Council are:
• Allowing certain areas to be exempt from minimum wage laws to encourage the hiring of young and low-skilled workers.
• Assessing new regulations for their impact on minority communities with the goal of ending any disparate impact on those communities.
• Barring illegal immigrants from accessing non-emergency public services so local taxpaying citizens get the services for which they've paid.
• Ending police enforcement of regulatory rules like unlicensed lemonade stands or the cigarette sales that led to the death of Eric Garner in New York City.
• Requiring charges and convictions to validate any criminal asset forfeiture, and a 30-day return of assets if no charges are filed.
• Encouraging religious institutions to sponsor events such as "First Responder Sundays" that promote police-community relations.
A copy of the Blueprint was also sent to the Baltimore district office of U.S. Representative Elijah E. Cummings. President Trump's tweets focused on the conditions of Maryland's 7th Congressional District, which is represented by Cummings. In their letter, the Project 21 leaders said they "are eager to meet with [leaders] to plan how best to implement plans designed to help make Baltimore thrive."
Project 21 has previously discussed the recommendations in the Blueprint with White House staff, Housing and Urban Development Secretary Ben Carson, Education Secretary Betsy DeVos, Department of Labor staff, Department of Health and Human Services staff, Environmental Protection Agency staff and congressional staff.
In an interview on the One America News Network, Project 21 member Marie Fischer discussed the value of the Blueprint in helping revitalize black communities: "A lot of inner cities are mini-Venezuelas. People keep pointing out that 'oh, our country is gonna be like Venezuela if we go towards socialism.' We already have cities that are there. President Trump, with his tweeting, he's pointing out – look, socialism is here, and look at the results. Don't look to other countries. Just look in our own backyards."
A copy of Project 21's "Blueprint for a Better Deal for Black America" can be downloaded here or browsed online at https://blueprint.project21.org.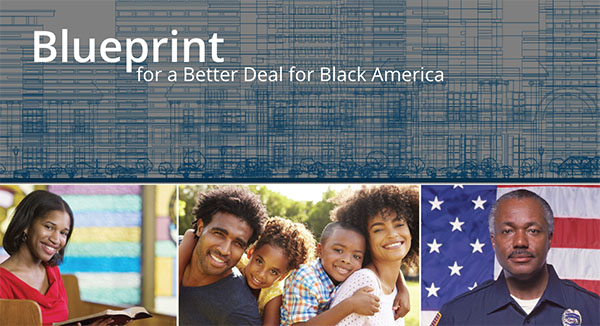 To schedule an interview with a member of Project 21, contact Judy Kent at (703) 759-0269.
Project 21, a leading voice of black conservatives for over 25 years, is sponsored by the National Center for Public Policy Research. Its members have been quoted, interviewed or published over 40,000 times since the program was created in 1992. Contributions to the National Center are tax-deductible and greatly appreciated, and may be earmarked exclusively for the use of Project 21.
Founded in 1982, the National Center for Public Policy Research is a non-partisan, free-market, independent conservative think-tank. Ninety-four percent of its support comes from some 60,000 individuals, less than four percent from foundations and less than two percent from corporations. Sign up for email updates here.
Follow Project 21 on Twitter at @Project21News for general announcements. To be alerted to upcoming media appearances by Project 21 members, follow our media appearances Twitter account at @NCPPRMedia.
-30-