01 Feb 2012

Komen-Planned Parenthood Split: Reward Komen's Good Decision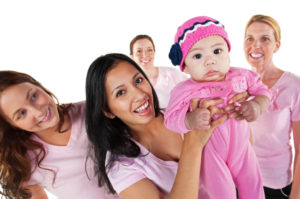 UPDATE: Komen reversed its decision on Friday February 3, 2012.  Read my response to the reversal.
Yesterday brought the stunning and delightful news that Susan G. Komen for the Cure, the nation's most prominent breast cancer charity, cut off funding to Planned Parenthood.
Last year, a close friend of mine was diagnosed with breast cancer.  A group of our friends put together a Komen Race for the Cure team to support her.  I agreed to join them for the 2012 race, and took up running this past fall with that goal in mind.  However, as I started to look into the Komen–Planned Parenthood connection, I realized that — in good conscience — I couldn't support Komen.  In the meantime, I have looked for other ways to support my friend in ways that didn't involve questionable connections.
In past years, Planned Parenthood affiliates were awarded millions of dollars by Komen to subsidize breast cancer screenings and mammograms.
By running with Komen, and thus funding Planned Parenthood's breast cancer efforts, I knew I would freeing up more money in Planned Parenthood's budget to do what it does best: to advise abortion-minded women and often end the lives of their unborn babies.
Angry abortion proponents believe that Komen has "cave[d] to anti-woman extremists."  It's no surprise they are upset about Komen's decision.  But Komen has not suddenly become pro-life.  It hasn't started funding pro-life groups.  Komen has simply stopped alienating a large part of the American population through its association with one controversial group.
By ending its funding of Planned Parenthood, Komen has now become a viable funding choice for millions of pro-life Americans like myself.  Rather than suddenly depriving poor women of low-cost screenings, it now has the opportunity to fund even more screenings as pro-lifers freely support the organization without reservation.  And Komen can continue its good work while still obeying the medical ethic of "first, do no harm."
We need to let Komen know that we have its back on this decision.  Its leaders are hearing from thousands of people who are upset about their decision.  Make sure they hear from those who support them by doing one or more of the following:
1.  Email them at [email protected] and thank them for their courageous decision.
2.  Donate to Komen.  Angry pro-abortion activists are now threatening to withhold money to find a cure for breast cancer, and those who agree with Komen's decision need to fill in the gap — and then some — to remind Komen's leaders that they made the best decision for their organization.
3.  If you'd like to join me and many others in a physical representation of our new support, consider joining "Team Life" on June 2 in Washington, D.C. for the 5K Race for the Cure.  You can run it, walk it or financially support "Team Life" by clicking here.
Thank you, Komen.  Thank you on behalf of all of us pro-lifers who hate cancer and have wanted to support you for years.  Can you hear us now?