22 Feb 2012

Occupy Occupy D.C., Day 7: Tokenism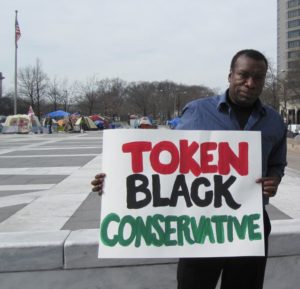 Project 21 spokesman Bob Parks showed up today at Freedom Plaza on Wednesday as part of the National Center's "Occupy Occupy D.C." events to talk to members of the Occupy D.C. encampment about why, as a black man, he is a conservative.
Last week, Occupier "Charlie" accused the National Center of not having any black supporters.  Bob, a volunteer for the National Center's Project 21 black leadership network, sought to disabuse Charlie (left, as always) of this notion.  While Bob tried to keep the conversation away from partisan politics, broad generalities and name-calling, Charles seemed fixated on the "racist white cracker" vote in South Carolina.
Bob had a much more productive conversation with PeaceLoveSprayPaint from Gonzotimes.com.
Stay tuned for video of Bob's interactions!