09 Oct 2012

Chavez Monument Proclaimed By Obama Over Project 21 Member's Warnings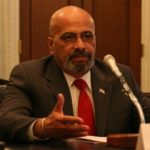 On October 8, 2012, President Barack Obama unilaterally created the "Cesar E. Chavez National Monument" on 10.5 acres of land in Keene, California.
Obama was able to convert the former United Farm Workers union compound — which was contains the residence and burial site of the late labor agitator — into a shrine that some critics say is a crass political act intended to shore up Hispanic support — through executive power granted by the 1906 Antiquities Act.
Representative Doc Hastings (R-WA), chairman of the U.S. House of Representatives Committee on Natural Resources, called the designation "unnecessary" and said it "appears to be based more on politics than sound policy."  Commenting on the racial aspects of Obama's action, syndicated columnist Rueben Navarrette wrote that the President "hit a foul ball" — noting that "Chavez was never a leader for all Latinos."
In the big picture, Obama did what Congress could not in 2007 — thanks in part to the work of Project 21, the National Center's black leadership network.
Five years ago, Project 21 provided persuasive testimony that helped blunt the drive by congressional liberals to create a similar shrine for Chavez.
In his proclamation announcing the new federal asset, Obama cited Chavez's "passion for nonviolence rooted in the teachings of Dr. Martin Luther King, Jr. and Mohandas Gandhi."
Project 21 testimony provided a different perspective — one that wary lawmakers took to heart at the time.
In testimony before the U.S. House of Representatives Subcommittee on National Parks, Forests and Public Lands on March 29, 2007, Project 21 member Joe R. Hicks, a former leftist activist who knew and worked with Chavez back in the day — and even marched arm-in-arm with Jesse Jackson at Chavez's funeral — testified against legislation under consideration at that time that sought to create a study on ways the government could honor Chavez through designating landmarks related to Chavez and the farm labor movement he led.
In a direct rebuke of the reasoning used by Obama in 2012, Hicks said in 2007:
King's legacy survived this test because there was a consensus that King's life-long commitment to nonviolence and equal opportunity was unassailable…
This, however, must be compared and contrasted with how Cesar Chavez dealt with violence as his UFW organizers often made use of strong-arm tactics against field workers in California's Central and Coachella Valleys.
The 2007 "Cesar Estrada Chavez Study Act" was introduced by then-Representative Hilda Solis (D-CA).  Solis is now Obama's Secretary of Labor.
Obama celebrated Chavez in his remarks at the "Nuestra Senora Reina de la Paz" compound on October 8.  He even placed the newly-designated monument on par with the Grand Canyon and Statue of Liberty.  Entwining his own political ascent with the legacy of Chavez, Obama said "the truth is we would not be here it if weren't for Cesar."
It was exactly this sort of political posturing that Joe warned might improperly cloud the decision-making process that involved locking up of property and use of taxpayer funds in Chavez's name over five years ago.  Joe testified:
All sides of the debate regarding the Cesar Estrada Chavez Study Act must be considered.  It is critical that this Committee not be swayed by those arguing for some larger recognition of Cesar Chavez based on grounds of ethnic pride or that he be honored because of the growing Latino population nor the growing political clout of this nation's diverse Hispanic communities.
When Chavez's life is examined in closer detail, a darker side emerges.  Free from the leftist prism through which I viewed the world for all-too-many years, I see his contributions in a far more clear and balanced way.  How should the life of Cesar Chavez and the UFW be viewed by the American people?  Is there a settled opinion on this?  I argue that there is not.
But, no matter how persuasive Joe's comments were at the time, Obama's 2012 designation was not through a democratic, legislative process.  Rather, it was made by executive decree.  And it was also likely that politics played a heavy hand in the designation this week.