19 Apr 2017

Jeff Stier Defends Neil Gorsuch and NEA Funding Cuts

Should Americans be concerned about Neil Gorsuch's connection to a billionaire Heritage Foundation donor? "The Big Picture" host Thom Hartmann thinks so.

"I don't think we should be concerned at all," responded Jeff Stier, the director of the National Center for Public Policy Research's Risk Analysis Division. "I don't think there's any doubt that he's qualified to do this job. I think a lot of people like you might not like his politics… People who share an ideology tend to work together, they support each other."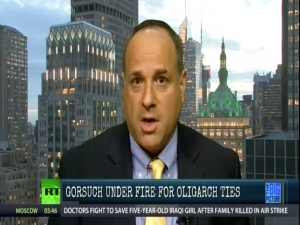 Hartmann next complained that funding for the arts is on President Trump's chopping block.
"The government shouldn't be interfering with the arts. I myself appreciate art and I myself am an artist. I don't want to have to answer to the government to define what is art, what isn't art," said Stier. "The government has no role in it. The arts should be supported by our community, and by our culture, and by donors."
The panel also discussed the popularity of Senator Bernie Sanders.
Stier's entire appearance can be viewed below.