06 Nov 2015

Black Lives Matter Movement is No Longer Redeemable, Says Project 21's Nedd

Despite the good intentions of the initial Black Lives Matter movement, Bishop Council Nedd II of the Project 21 black leadership network says that there's very little that's redeemable from the movement in its current form.

"I think it started out as a decent idea, but then got immediately politicized.  Then it got radicalized.  And that radicalization has sort of become the dominant voice in there.  I don't know if there's much redeemable," he told host Ed Berliner on NewsmaxTV's "The Hard Line."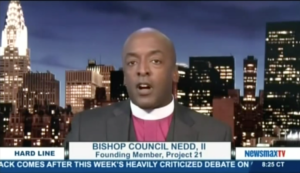 Nedd says moderate and reasonable supporters of Black Lives Matter have distanced themselves from the movement as it has become radicalized.
"I'm sure there are some people involved in that movement who have some good intentions.  However, all you hear are the people making the most noise, calling for violence against police officers, calling for the destruction of everything we know in order to promote one group over another, and that's racist, elitist, and dangerous.  We've seen now that, in response to the Black Lives Matter movement, police officers have been shot dead in the streets."
Nedd's full appearance from October 30 can be viewed below: