24 Nov 2015

Sanctuary Cities Are a Magnet for Criminals, Says Horace Cooper

What happens when local governments refuse to enforce federal immigration laws?  We see "sanctuary cities" develop in places like San Francisco, where illegal immigrants can live without fear of prosecution or deportation.

Horace Cooper of the National Center for Public Policy Research and the Project 21 black leadership network took on the issue of sanctuary cities on a recent edition of Al Jazeera America's "Inside Story with Ray Suarez."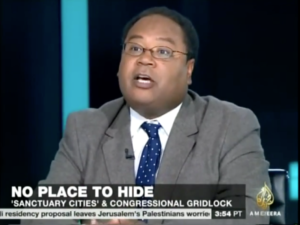 Cooper noted the dangers inherent in sanctuary cities, and challenged federal legislators to allow states like Arizona to be tough on illegal immigration if they so choose.
"Apparently we only can go one direction, only the San Francisco model, only the LA city model, of welcoming, which, by the way, is a magnet for criminals," said Cooper.  "Why should one criminal come to America and see the sanctuary city as a place of refuge?"
Cooper continued: "On the other hand, a state like Arizona says, 'We're going to be the opposite of a sanctuary city.  We want to be aggressive about limiting the cost that we have to bear.'" Cooper believes Arizona should have the right to choose that path for itself without federal interference.
A short excerpt of Horace's appearance on October 27 is below: