23 Aug 2016

Department of Justice's Report on Baltimore Police Ignores Importance of Keeping Neighborhoods Safe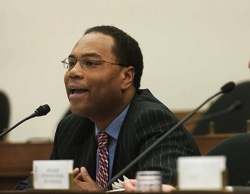 Project 21 Co-Chairman Horace Cooper has reviewed the U.S. Department of Justice's report on Baltimore policing, and he's not impressed:
The report should have been subtitled, "criminal lives matter."
Career criminals, who make up the overwhelming number of individuals encountered by Baltimore police, are sanitized in the report and actual victims (the people they prey upon) are not referenced at all.
This 164 page takedown of the Baltimore Police Department focuses on how the Baltimore Police Department could better handle every social ill in the community from mental illness, sex workers, to juvenile delinquency, all the while ignoring the department's main responsibility, keeping neighborhoods safe.
I can guarantee that, if this prescription is embraced, fewer black kids will graduate from high schools, property values in Baltimore will decline and any remaining middle class blacks than can escape (taking with them the success model they demonstrate), leaving poverty and hopelessness in its wake.
Project 21's Joe Hicks also has weighed in on the report, both here and in interviews on the Fox News Channel's The Kelly File (8/10) and on numerous other programs, including What's Up with Terry Lowry (KTXW-AM, Austin, TX), the Mike Schikman Show (Harrisonburg, VA), Chad Groening's show on American Family Radio, Joe Thomas's "Freedom and Prosperity Radio" in Charlottesville, VA, and other programs.