13 Mar 2012

Occupy Occupy D.C., Day 21: Honk for Change … in these High Gas Prices!

Today, the National Center's "Occupy Occupy D.C." Street Team brought the message "Honk for Lower Gas Prices" to Freedom Plaza, and passing motorists brought the noise.
Passing motorists honked and implored: "President Obama, lower these gas prices!"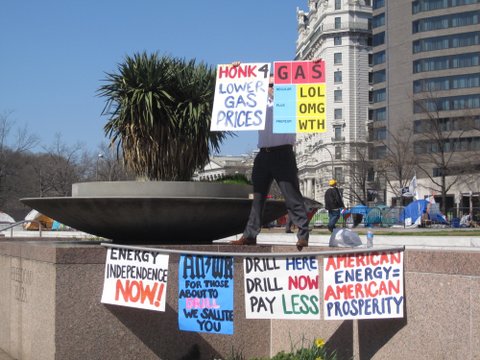 President Obama and his team claim that there is little they can do to lower gas prices.  That's bunk.
Over at Lubbock Online, one blogger points out that:
Lowering oil prices is easy.  All Obama has to do is give assurances that the United States will increase oil production.  That was all that was needed for George W. Bush to do in 2008.  Admittedly there is the marked difference that President Bush had integrity and was trusted and President Obama does not have integrity and is not trusted.
In 2008 when the cost of oil reached $147 a barrel, President George W. Bush quickly brought down the cost of oil to the $40 range, hitting bottom at $33 a barrel, by simply opening more offshore oil drilling.  Gasoline came down to $1.59 a gallon the last week of December 2008.  Such is not the goal of Obama.
When Obama took office gas was around $1.80 per gallon for regular unleaded.  This week, the national average eclipsed $3.80 per gallon.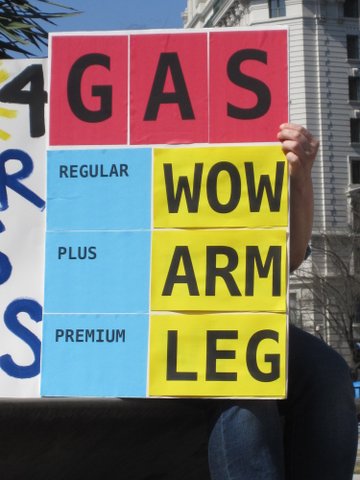 This is what most folks see when they fill up their cars.
Obama should fix this picture and reduce pain at the pump.
Obama could signal to markets a willingness to speed up drilling permits in the Gulf of Mexico; he could approve the Keystone XL pipeline (instead of lobbying against it); he could open more federal lands in the West to oil exploration; he could support shale and tar sand production; he could promote a gas-tax holiday; and he could support drilling in the Arctic National Wildlife Refuge (ANWR).
He could do any and all of these things, but his record shows, he doesn't want to.
Liberal environmentalists and politicians often claim that drilling in new regions like ANWR won't affect gas prices in the short term.  That is wrong.  President Bush's experience, where he showed a willingness to drill, sent a signal to speculators and OPEC that the United States was serious about domestic oil production and oil futures decreased.  Additionally, whether liberal environmentalists like it or not, the United States will NEED oil for the foreseeable future.  Making use of all domestic resources is just common sense.
Ten years ago, liberal environmentalists – including Senator Maria Cantwell (D-WA) – argued against drilling in the ANWR, saying that no fossil fuels would reach the lower 48 states for ten years.  Well it has been ten years; those resources could have reached every state by now!
Hopefully, President Obama heard the message today, because surely the noise will get louder until he acts to reduce gas prices.