31 Mar 2016

Kevin Martin on SCOTUS, Drug Wars and Gitmo

On the 3/25/16 episode of RT Network's "The Big Picture," Project 21's Kevin Martin took on issues ranging from the SCOTUS nominee to the drug wars to Gitmo detainees.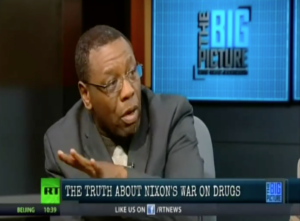 Martin pointed out the hypocrisy of liberals who are demanding that the Senate vote on Supreme Court nominee Merrick Garland:
"Why should they vote for him?" asked Martin.
"Because the Constitution says it's their job," replied host Thom Hartmann.
"But they didn't do their job in 2005 when YOUR party ran the Senate," shot back Martin.
Regarding recent revelations from a Nixon advisor about how the Nixon Administration vilified minorities and drug abusers in the 1970s because they were seen as political enemies:
"In '70 you had the hippies, you had the blacks, you gotta keep them down, they're scary, they're in the corner," said Martin. "Both parties have gone after working white folks by using minorities and drug addiction as the boogeyman."
"I don't like much that comes out of Kevin's mouth, but he's right," replied Kevin's liberal fellow panelist Chuck Rocha.
Regarding the future of released Guantanamo detainees, Martin noted that "no one's gonna vote for a congressman or senator who's gonna put these people in their backyard."
These segments of "The Big Picture Rumble" can be viewed below.