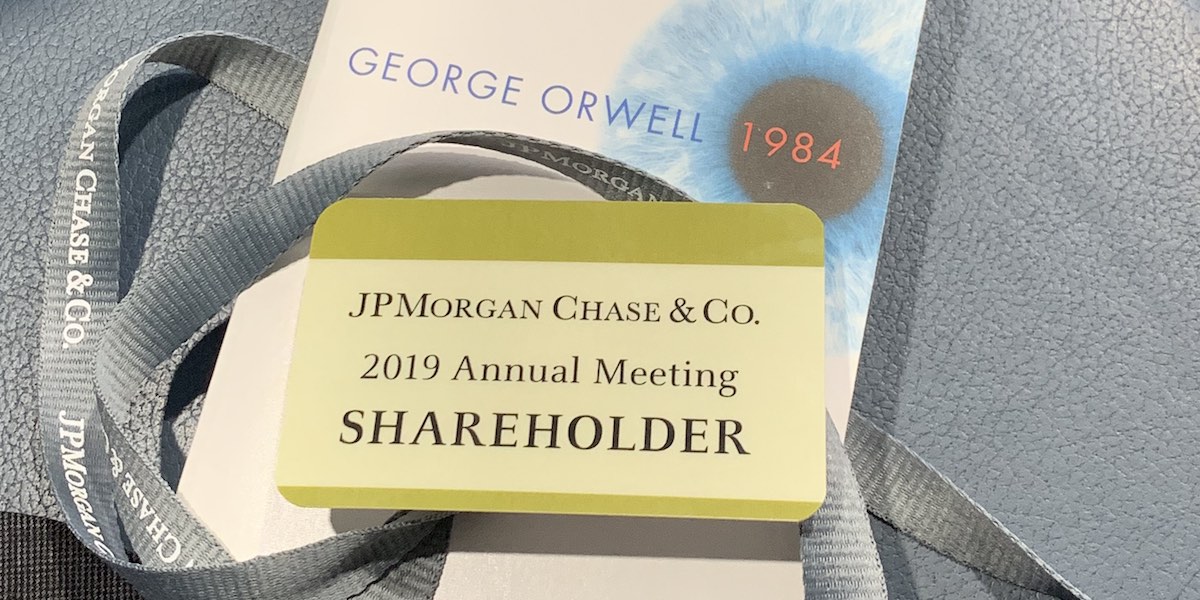 21 May 2019

Chase CEO Denies Debanking Conservatives
Free Enterprise Project Asks JPMorgan Chase's Jamie Dimon to Pledge Not to Close Bank Accounts for Political Reasons
Chicago, IL/Washington, D.C.– Presenting a copy of George Orwell's 1984 to the head of America's largest bank, a shareholder activist today asked JPMorgan Chase & Co. to not "debank" conservatives because of their political beliefs. Chairman and CEO Jamie Dimon flatly denied that any debanking has occurred at Chase Bank under his watch, but refrained from pledging that it would not happen in the future.
"We gave Dimon a chance to definitively say that JPMorgan Chase has not debanked conservatives and will not wield its power against conservatives in the future, but he really only gave us half," said National Center for Public Policy Research Vice President David W. Almasi, who confronted Dimon on behalf of the National Center's Free Enterprise Project (FEP) during the company's annual meeting of shareholders. "If Jamie Dimon can't absolutely guarantee that Chase Bank won't ever discriminate against conservatives, conservatives should consider banking elsewhere."
Almasi brought a copy of George Orwell's 1984 to the meeting and gave it to a JPMorgan Chase employee to give to Dimon. He did so to make a point that the current debanking and deplatforming of conservatives by American businesses is similar to how political enemies were stripped of their identities in Orwell's seminal novel.
During the question and answer session at today's JPMorgan Chase shareholder meeting in Chicago, Almasi said:
I'd like you to address allegations that Chase Bank has recently "debanked" several people affiliated with the conservative movement. I'm not here to defend anything they have said or done, and I don't personally know any of the people I'm going to mention. Frankly, as someone who works in the conservative movement, I'm asking for a personal reason: Am I next?…

Conservative activists Enrique Tarrio, Joe Biggs, Laura Loomer and Martina Markota all found accounts they had with Chase Bank cancelled in the space of just a few weeks this past January and February. They say they don't know why.

In Mr. Tarrio's case, he says he was a 10-year Chase customer. He says the online shop he runs went through a three-month Chase certification process long before the account was suddenly closed. Video of Mr. Tarrio appealing his case to Chase employees is available on the website of Project Veritas. In the video, several Chase managers say they can't explain the irrevocable closure of Mr. Tarrio's account. One business manager calls it "mind-boggling."…

…I'm asking you to clear the air.
He then asked Dimon:
I know you cannot speak about personal banking matters, but can YOU – as chairman and CEO, on the record and before your investors – pledge that JPMorgan Chase and Co. is not debanking people and will not debank them because of their politics? Or, if you are, will you pledge to end this practice so conservatives like me don't have to worry about becoming "unpersons" like in the book 1984?
Almasi's full statement, as prepared for delivery, is available here. The audio of the exchange between Almasi and Dimon can be heard here.
Dimon replied: "Very directly, we have not and do not debank people because of their political views. We have not and do not. And we debank people 'cause they're DSA, AML, KYC or unable to meet regulation – regulatory-type of requirements for them."
During his comments, Almasi noted how the Southern Poverty Law Center (SPLC) has worked with other companies to debank conservatives, and how when FEP questioned Dimon last year about the company's $500,000 donation to the SPLC, Dimon refused to address the company's relationship with the SPLC. Again today, Dimon refrained from addressing the SPLC affiliation after Almasi brought it up.
"It's chilling that conservatives are at risk of losing financial standing because of their beliefs," said Almasi. "I brought Dimon a copy of 1984 so he and the JPMorgan Chase leadership could brush up on the specter of Big Brother and making someone an 'unperson.' Dimon denied the charges currently leveled against Chase Bank, but I think he could have said a lot more to convince conservatives they are safe from the growing discrimination by businesses that take cues from leftist special interests like the SPLC."
Today's JPMorgan Chase & Co. shareholder meeting is the 20th meeting in which FEP has participated in 2019.