01 Jul 2005

Making Sense of Mexico, by Jeffrey Brian Hicks

While trying to morally justify the continuous and illegal flow of Mexican nationals over our border, Mexican President Vicente Fox recently sparked an uproar that may be telling about Mexican society.

With national security and economic concerns related to this influx of illegal aliens, some state governments are beginning to crack down on illegal immigration.  This is not sitting well with the Mexican government.  Speaking to Texas businessmen visiting Mexico in May, a frustrated President Fox said:

There is no doubt that Mexicans, filled with dignity, willingness and ability to work, are doing jobs that not even blacks want to do there in the United States.

President Fox was promptly criticized for both injecting race into the immigration debate and for questioning the work ethic of black Americans.

Although his remark may have been inappropriate and lacking our standards of ethnic enlightenment, it reflects the reality of Mexico's social problems.  Some Americans proudly view Mexico is our rapidly developing partner to the south.  But, like many Latin American societies, Mexico is home to a virtual caste system that relegates its darkest indigenous and African citizens to the bottom of the socioeconomic totem pole.

Consequently, when one encounters a person of indigenous or African descent in Mexico, it's reasonable to assume his social status is relatively low.  This is all too apparent in the Mexican mass media, where news personalities and actors are usually fair-skinned.  Mexican figures on popular networks such as Univision and Galavision have long been criticized as poorly representative of everyday Mexicans.

Some might argue that a similar correlation exists in America between ethnicity and social position, but our general appreciation for social mobility is a key difference between our two societies.  Social mobility in America has enabled millions of persons of color to rise to or near the top of the socioeconomic ladder.  As a result, negative depictions of the social plight of blacks, Latinos and Asians in America are becoming less accurate.

Pop culture could be another explanation of President Fox's seemingly low opinion of black Americans.  As most black international travelers can attest, the impression many foreigners have of America is too often shaped by the antics of some black professional athletes, actors and hip-hop artists.  The behavior of professional basketball player Ron Artest when he charged into the stands and attacked spectators during a game, the multiple arrests of actor Martin Lawrence and the highly publicized legal troubles of singers Michael Jackson and Lil' Kim's haven't done much to establish favorable impressions around the world.

Sadly, the candor of President Fox may reflect a common international perception.  But whatever the case, his country must deal with its own issues.  If he would do a better job dismantling pervasive social barriers and ethnic stereotypes within his own country, the millions of mestizo and indigenous Mexicans might not be compelled to venture across our borders to find gainful employment.

Unfortunately, Mexico seems to have a vested interest in maintaining this "econo-migration" as it leads to the infusion of much-needed American dollars into its economy.  Therein lies Mexico's dilemma – one for Mexico to ultimately resolve.

###


Jeffrey Brian Hicks, a member of the black leadership network Project 21, is a freelance writer in Northern Virginia who focuses on social and public policy issues.  Comments may be sent to

[email protected]

.

Published by The National Center for Public Policy Research. Reprints permitted provided source is credited. New Visions Commentaries reflect the views of their author, and not necessarily those of Project 21.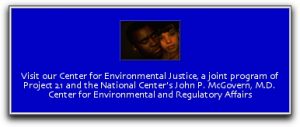 ---