22 Sep 2015

The Unforeseen Consequences of Affirmative Action

Project 21, a leader in the promotion of black conservative public policy opinion and activism, recently joined a new legal brief to the U.S. Supreme Court opposing racial preferences in school admissions. SCOTUS is preparing to hear the case of Abigail Noel Fisher v. University of Texas at Austin, et al. for the second time.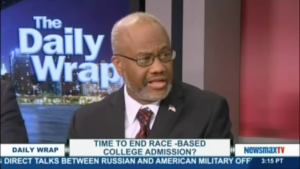 Project 21 member Emery McClendon opposes affirmative action in school admissions, and on September 18 he explained why on Newsmax TV's "The Daily Wrap":
I have three sons. All three went to college. They have told me stories: "Dad, here's a guy that comes in. He gets a grant. He gets a scholarship. His scores are low. He goes in, he parties, he spends the scholarship money, he spends the other grants that he gets. He's kicked out of college with less than three or four months." And he took [the place of] somebody who was going to be serious, spent that money, wasted that money. Nobody got anywhere.
Also, are American military leaders purposefully altering military reports to fit the White House narrative that America is winning against extremists in the Middle East?  McClendon noted that if the American public is being lied to, both our troops and our enemies know it.
"The guys on the field who know what's going on, if they're not doing what these reports say they did, they know that, and ISIS or ISIL also knows the exact same thing," said McClendon.
"That's actually a very good point," responded liberal host Rick Ungar.