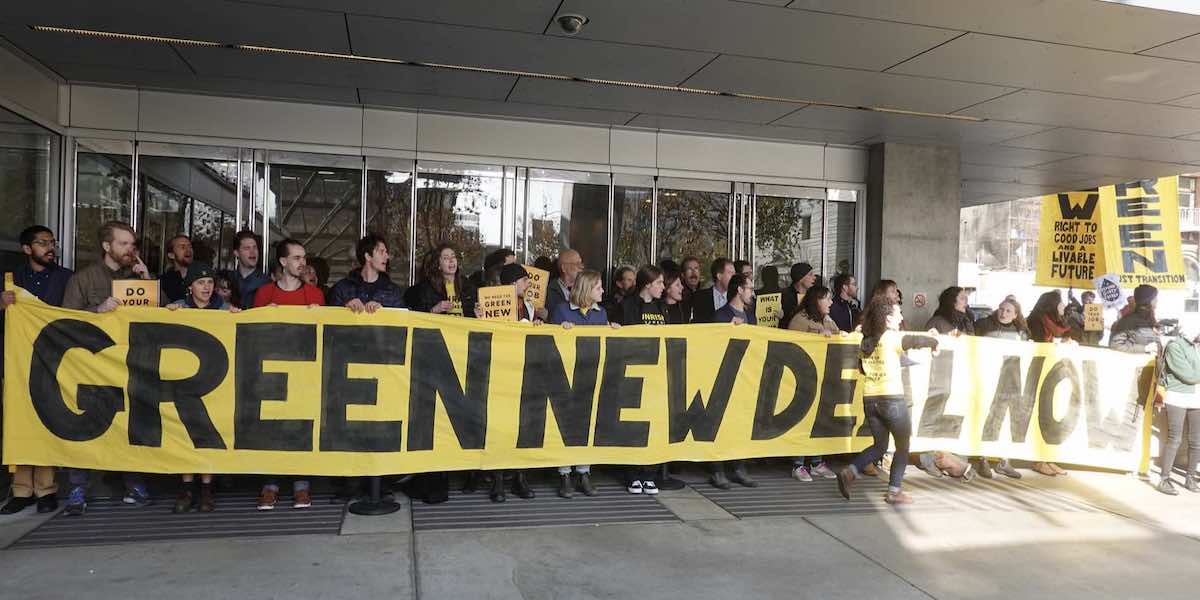 26 Aug 2019

New Deal and Green New Deal: Both Bad Deals

A commentary by National Center President David A. Ridenour compares the Green New Deal unveiled by Representative Alexandria Ocasio-Cortez earlier this year to the New Deal of the Franklin Delano Roosevelt Administration. He calls both "massive government interventions" and notes that – like the New Deal – the Green New Deal could "impoverish millions of Americans and decrease living standards nationwide."
"The architects of the Green New Deal should learn from history," David opines. "If they don't, we'll all be doomed to repeat it."
Published in the newspapers of the Southern California News Group, David's commentary appeared in the pages of several newspapers including the Orange County Register, Los Angeles Daily News, Riverside Press-Enterprise and Pasadena Star-News.
In his commentary, David explains that the architects of the New Deal thought they could end the Great Depression by "pouring money into the economy" and artificially inflating worker wages. He notes that economists today agree that "these policies backfired" and "actually made things worse for working-class Americans."
Yet the Green New Deal's proponents claim that increasing the size and scope of government now in the name of saving the environment will similarly "create millions of high-wage jobs." This is misguided, as David explains:
The New Deal raised wages but made it much more difficult to find work. Overall, unemployment was 25 percent higher than it would have been without the [National Industrial Recovery Act's] interference.

The sting of unemployment was sharpened by other New Deal policies that raised the prices of wheat and cotton, which made it harder to buy basic goods like bread and clothes.

All told, the New Deal might have prolonged the Great Depression by seven years. This not only left many Americans homeless and hungry but also stifled economic productivity. [Economists] estimate the gross national product at the time would have been 27 percent higher without New Deal policies.

The Green New Deal would similarly crush poor Americans today. Low-income Americans already spend a higher than average percentage of their income on energy. These costs will only increase as fossil fuels are heavily taxed. Electricity costs would skyrocket.
And, despite the doomsday rhetoric of Green New Deal supporters, America is already doing more to clean up the environment than other countries ruling in a manner closer to the liking of Green New Deal supporters. David writes that this shows that "[t]his crusade for environmental and economic justice would actually lead to more pollution and poverty."
He adds:
The best environmental outcomes result not from government fiat, but from national prosperity and free-market innovation. The United States has slashed energy carbon emissions by 13 percent since 2005, thanks to its increased reliance on natural gas, which produces fewer greenhouse gas emissions than coal. By contrast, China's government has aggressively sought to transition the country to cleaner energy sources — yet emissions keep rising.
Click here to read all of "A Green New Deal Would Fail, Just Like the Original New Deal."