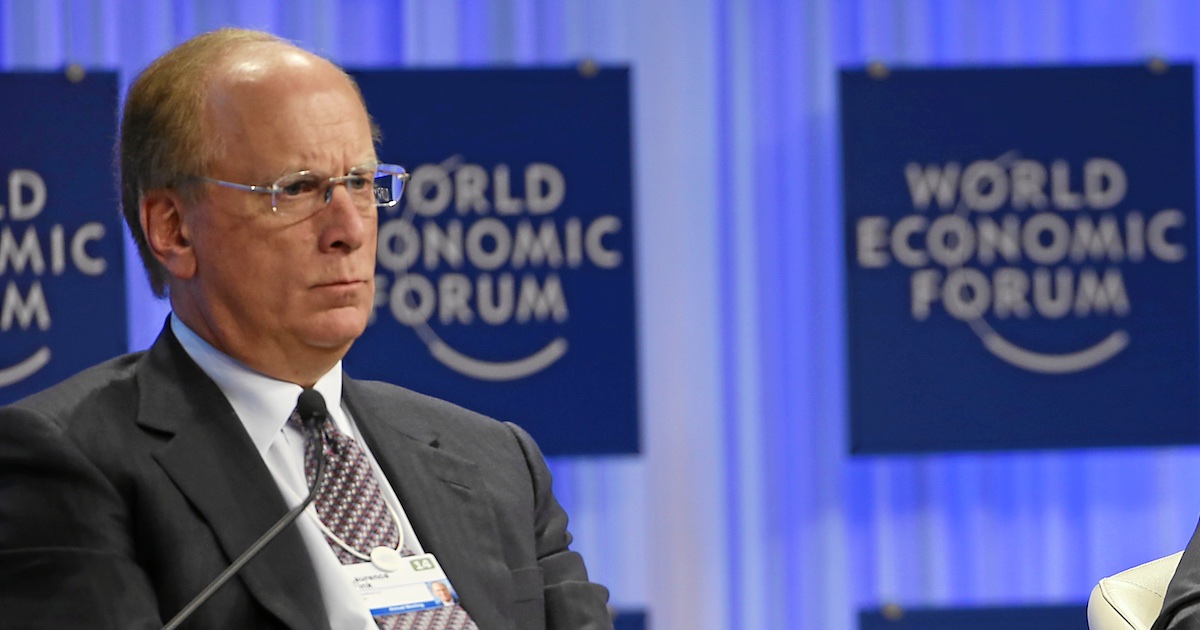 23 Mar 2023

Ethan Peck: BlackRock's Larry Fink Peddles The Left's Radical ESG Agenda

In another one of his annual letters — this time to investors instead of CEOs — BlackRock CEO and self-appointed oligarch of the world economy, Larry Fink, proved once again that he can't help but contradict himself, lie to shareholders, mischaracterize basic concepts and policies and favor his personal policy preferences over his fiduciary duty to shareholders.

In his letter to CEOs last year, Fink obtusely defended BlackRock's peddling of Environmental, Social and Governance (ESG) and "stakeholder capitalism" — which is done with other people's money — by claiming it "is not about politics. It is not a social or ideological agenda. It is not 'woke.'"

Much of this year's letter was in the same vein — as Fink has a knack for passing off BlackRock's radically left-wing agenda as apolitical, objective stewardship – though this time, he slightly subdued and reframed his message (and perhaps target audience), despite keeping BlackRock's policies exactly the same.

Fox example, Fink didn't use the terms "ESG," "stakeholder capitalism" or "racial equity" explicitly in this year's letter — a walk-back from past letters and statements — but still made it clear that BlackRock is committed to "helping clients navigate and invest in the global energy transition," and throughout the letter, generally adhered to the notion that its incumbent upon BlackRock to shape corporate policy for everyone.

Fink invokes the Motte and Bailey technique to provide cover for BlackRock's indefensibly hyper-political pressure tactics. For example, he made completely unobjectionable claims such as, "there are many people with opinions about how we should manage our clients' money. But the money doesn't belong to these people. It's not ours either. It belongs to our clients, and our responsibility and our duty is to them." That's the motte.

But BlackRock's modus operandi is precisely the opposite of that — weaponizing their clients' money to force corporations to the hard-left. Fink's seemingly neutral way of expressing that was claiming that "part of supporting our clients includes speaking out on issues important to their investments. I've long believed that it's critical for CEOs to use their voice in the world." That's the bailey.

That might sound benign to some — and it would be as a stand alone statement from someone who uses words honestly — but Fink views woke corporate activism as apolitical responsible business practices. So when he says that BlackRock supports clients by "speaking out on issues important to their investments," he's only referring to left-wing positions important to left-wing investors.

When's the last time Fink spoke out on behalf of the millions of BlackRock clients that don't support "energy transition," "racial equity" or ESG?

Fink constantly contradicted himself in this way. He wrote that "it is for governments to make policy and enact legislation, and not for companies, including asset managers, to be the environmental police," but then also that "for years now, we have viewed climate risk as an investment risk."

Fink pretended to champion retail investors while also siding with the managerial elite in finance and government by praising the recent bank bailouts: "The regulatory response has so far been swift, and decisive actions have helped stave off contagion risks."

If that doesn't boil your blood, maybe Fink's allegiance to the CCP will:
Leaders in public and private sectors are essentially trading off efficiency and lower costs for resilience and national security. Governments are playing a bigger role in where products can be sourced and where capital should be allocated. This means capital won't necessarily be allocated to the businesses that deliver the maximum market return regardless of where they are located.
So when it comes to importing goods from China, Fink signaled to investors that hands-off government is in their best interest, but then Fink also argued for adopting a system of government-sponsored corporatism akin to the World Economic Forum's vision of "public-private partnerships": "The world now needs the private sector to grow economies and elevate the living standards of people around the globe. We need leaders in both government and corporations to recognize this imperative and work together to unleash the potential of the private sector."
Perhaps irked by the wave of red state pension fund divestment from BlackRock, Fink made sure to address the growing hesitations of everyday Americans to entrust their retirement savings to BlackRock: "In order to retire comfortably, people need to invest their savings over decades and take advantage of the long term returns delivered by the growth of the capital markets."
This wasn't the only underhanded jab that Fink took at the right. On recent economic uncertainty, Fink claimed that "the financial system is clearly stronger than it was in 2008," but that more government intervention is necessary to further secure it: "the monetary and fiscal tools available to policymakers and regulators to address the current crisis are limited, especially with a divided government in the United States."
In other words, it would be easier to bail out his friends if it weren't for all those damn conservatives that oppose bailouts.
He also criticized Bitcoin — a life-raft for an economy that's already hit an iceberg — by painting it in the same light as FTX and altcoin scams. But then he went on to praise "permissioned blockchains" — so long as they're under his influence like most large corporations.
Ethan Peck is an Associate with the National Center for Public Policy Research's Free Enterprise Project. Investors interested in opposing woke capital can visit freeenterpriseproject.org for guidance on becoming an engaged shareholder. This commentary first appeared at The Daily Caller.