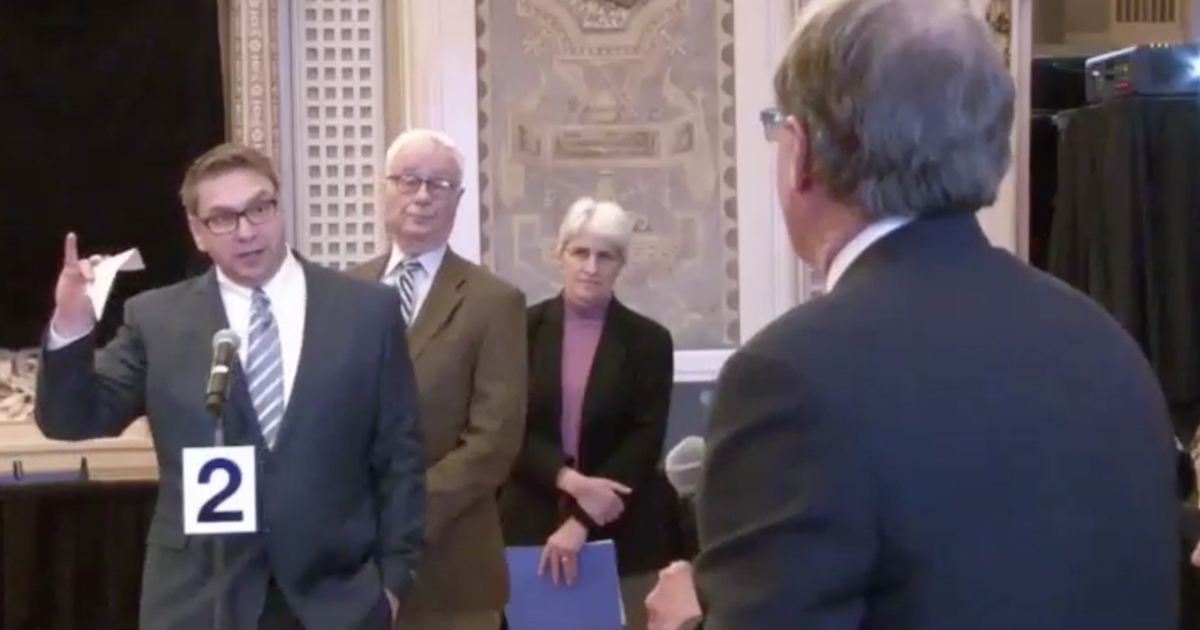 28 Jun 2023

The 2023 Shareholder Meeting Season in Review

Like last year, the 2023 shareholder meeting season was a mixed bag of hope and frustration. On one hand, rampant wokeness and corruption continue to define shareholder meetings. But promisingly, there is more pushback to corporate wokeness than ever before, and our efforts – along with those of a growing list of other center/right investors – are gaining support and widening in scope.

As previewed by us prior to shareholder season in this year's Proxy Navigator report, the National Center for Public Policy Research's Free Enterprise Project (FEP) put forward proposals at well over 30 companies this season – an FEP record.

We also addressed a wider array of issues, putting forward a record 15 unique proposals. As in previous years, these proposals addressed the two main pillars of corporate left-wing politicization: equity-based discrimination and the crippling decarbonization agenda. This season, however, we added proposals that addressed the influence of globalist organizations such as the World Economic Forum (WEF), corporate complicity with the Chinese Communist Party threat, corporate incest plaguing the boardroom, viewpoint discrimination by financial institutions and more.

Both left-wing activists (such as those with As You Sow) and corporate directors took notice of these new proposals and areas of interest of center/right shareholders. As You Sow responded with something approaching panic, accusing us and our allies – who all seek only fidelity to fiduciary duty, nondiscrimination and business neutrality – of all the things their leftist ESG platform seeks: censorship of non-leftist viewpoints, the destruction of true capitalism (in the name of sustainability and "stakeholder capitalism"), weakening American corporations in their ability to feed the economy and respond to future strains, and the like. 

Executives at shareholder meetings often responded with deflection. While corporations are happy to adopt programs that institute equity-based discrimination through their Diversity, Equity and Inclusion (DEI) programs and that implement political-schedule decarbonization through their economically and technologically incoherent decarbonization commitments, directors usually stay away from commenting on their WEF partnerships and transgender activism with a ten-foot pole, and this year have shown themselves increasingly unwilling to talk about ESG at all. We thwarted those efforts this year by filing proposals and asking direct questions at in-person meetings, forcing them to try to defend their indefensible positions.

Of particular importance: For the first time this year a significant number of companies began to recognize, in their annual reports and proxy statements, that they run financial and reputational risks by signing up for the ESG (read: woke) agenda. While the companies regularly referred to it as risks arising from "anti-ESG" forces, this serves as a recognition that our efforts – combined with those of our allies, state officials and others – are forcing companies to remember their fiduciary duties, and the need to not run their companies like leftwing activism groups with businesses attached.

Perhaps the defining moment of this year's shareholder season was the arrest of our friend Peter Flaherty of the National Legal and Policy Center, who was interrupted and then subsequently arrested while presenting a shareholder proposal at the Berkshire Hathaway meeting. As the proposal was a request for an independent chair because of how CEO and Chairman Warren Buffett's notably partisan stances and contributions impact what should be a politically neutral company, Flaherty pointed out that Buffett is the single biggest contributor to the hyperpartisan Bill & Melinda Gates Foundation, and that this is especially concerning since Bill Gates – who was in attendance at the meeting – visited Jeffrey Epstein's island on multiple occasions. The moment that Flaherty mentioned Epstein, his microphone was cut off and Buffett signaled to have him removed. Watch the interaction here.

The Apple and Starbucks meetings in March kicked off FEP's shareholder season. Our proposal at Apple called for a nondiscrimination audit of the company's DEI policies. The Starbucks proposal requested the creation of a committee to evaluate the impact of the company's political and social commitments on its profitability and growth, considering that the company had to close a number of stores in heavily progressive cities that had adopted policies that Starbucks relentlessly promotes. In other words, Starbucks' political activism hurts its own bottom line, which is a violation of the board's fiduciary duty to shareholders. FEP Director Scott Shepard's statement in support of the proposal can be heard here.

In April, during the Pfizer shareholder meeting, CEO Albert Bourla took direct questions pertaining to the election of directors or shareholder proposals, allowing FEP Associate Ethan Peck the opportunity to press Bourla on the company's contribution to corporate incest. Peck asked why it was acceptable for the company to nominate Coca-Cola CEO James Quincey to the Pfizer board – a pharmaceutical company – given the negative health effects of Coca-Cola products. Bourla deflected by praising Quincey's experience instead of addressing the incest.

Wrapping up April, Shepard presented a proposal at the Goldman Sachs meeting in Dallas, Texas that would have required a third-party review of the company's investment in Chinese businesses given that its Emerging Markets ETF includes companies that are part of China's nuclear weapons program. "Through its GEM ETF, Goldman Sachs invests in companies that supply munitions, including landing craft being used right now to prepare for an invasion of Taiwan," said Shepard. "It also invests in a subsidiary of the company that designs and builds the nuclear weapons aimed at the United States."

May was the busiest and most eventful month of shareholder season and included the meetings of BlackRock, JPMorgan Chase, Amazon, Bristol Myers Squibb, UPS, Capital One, Home Depot, Walmart, Eli Lilly and many others.

At the Eli Lilly meeting, FEP Deputy Director Sarah Rehberg presented a proposal challenging the risks of the company weighing in on the national abortion debate – and specifically on one side of it – as it did in the aftermath of the Dobbs decision last year. The recording of Rehberg's statement in defense of the proposal can be heard here.

As has become customary since the COVID lockdowns moved shareholder meetings to a virtual format, shareholder questions are usually prescreened and then either ignored outright or reworded and then "answered" with scripted, neutered pandering. But at the JPMorgan Chase meeting this year, Jamie Dimon took questions as written. In a rare occurrence of right-wing investors greatly outnumbering the left-wingers at shareholder meetings, nearly every question during the Q&A came from the right and challenged the company on its embrace of ESG and its various woke objectives. Our friend Jerry Bowyer asked Dimon about the shareholder proposal by David Bahnsen that challenged the company over its viewpoint discrimination, specifically the 'debanking' of individuals because of their conservative or Christian views. Dimon denied that the denial of service based on viewpoint ever occurred. 

FEP's Rehberg and Peck added questions of their own. Rehberg pressed the company about its viewpoint discrimination, asking how the company could justify its refusal to fill out the Viewpoint Diversity Index (VDI) while annually participating in hard-left surveys like the Human Rights Campaign's Corporate Equality Index. Dimon did not respond. A company lawyer answered instead, claiming to not be aware of the VDI – despite the fact that Bahnsen's proposal which was presented earlier in the meeting made explicit mention of it, and that FEP (among others) has had extensive discussions with JPMorgan Chase about the index and the company's participation in it, during which JPMorgan Chase had promised to undertake the review necessary to decide whether to participate.

Peck asked about the company's partnerships with numerous LGBT organizations, given that these organizations promote the practice of gender transition surgeries on minors: "Why is JPMorgan Chase funding the movement that seeks to mutilate children?" Again, Dimon did not answer. Instead, the same company lawyer deflected by bizarrely pretending as if Peck had asked a question about employee medical benefits. To listen to the exchange, click here.

Though the vast majority of meetings weren't held in person, FEP made sure to make the most of the ones that were. Peck attended the meetings of American Express and Delta to ask the same question that he did at the JPMorgan Chase meeting about the companies' funding of the movement that's promoting the genital mutilation of children. American Express CEO Stephen Squeri and Delta Chairman Frank Blake both deflected. AmEx's Squeri played dumb – just as Peck had his mic taken away – claiming not to know of the company's partnership with the Trevor Project, while Delta's Blake said that he didn't agree that the company's partnerships with such organizations were even happening at all. Despite aggressive pushback from Peck, Blake maintained that the question was unanswerable and refused to answer.

June closed out shareholder season with a number of important meetings of its own. At the Netflix meeting, Peck presented a novel proposal to forbid board members from serving on the boards of other companies. A recording can be heard here. And at the Alphabet meeting, he presented a proposal challenging the fiduciary violation of the company for partnering with organizations such as the WEF, which can be heard here.

The final meeting of the season was the Mastercard meeting on June 27, at which Shepard presented the same debanking proposal that was put forward at JPMorgan Chase out of concern for the denial of service by financial institutions to individuals based on their views. A pre-recorded statement in defense of the proposal can be heard here.

We plan to put forward proposals at a few upcoming off-season shareholder meetings, including that of Procter & Gamble and Microsoft.

We are also already preparing for next year's shareholder season, as we continue expanding the scope and reach of our shareholder engagement.